Coronavirus (2019-nCoV) Guidelines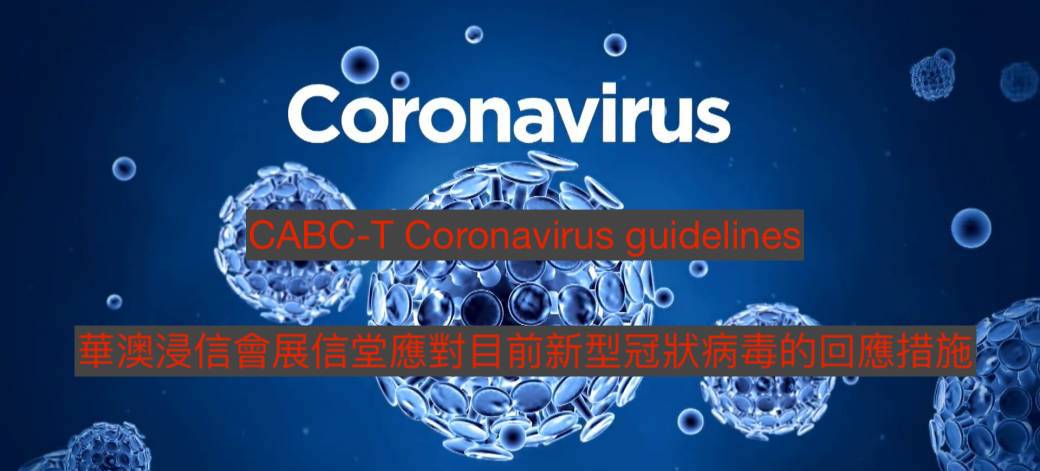 Updated: 23/3/2020
Greetings and welcome to our website! Just letting you know the Coronavirus pandemic is affecting the way we go about of our church activities, from Sunday worship to Bible studies.
From 29 March onwards, all morning services will be delivered online via www.youtube.com/cabcthornleigh. The service times will be as follows:
English service - 9AM
Mandarin service - 9AM
Cantonese service - 11AM
We are temporarily suspending our afternoon services (Cantonese 3pm and English 5pm).
We are continuing our cell groups and bible studies through online means. Information regarding these are being communicated via emails.
If you are a visitor who wants to connect with the church, if you require any assistance or have any queries, please contact us using the Contact form at the bottom of our homepage.
As things are changing on a daily basis, please visit our website or our Facebook page if you want to stay informed of updates. For our regular newsletters, visit http://tiny.cc/cabctnews
Finally, let us be inspired by God's encouraging words: "...in all these things we are more than conquerors through him who loved us. For I am convinced that neither death nor life, neither angels nor demons,neither the present nor the future, nor any powers, neither height nor depth, nor anything else in all creation, will be able to separate us from the love of God that is in Christ Jesus our Lord." Paul's letter to the Roman Christians 8:37-39
歡迎你瀏覽我們的網頁。由於新型冠狀病毒的疫情,我們教會的活動從主日的崇拜,主日學及其他的聚會包括團契和小組也受到影響。
由三月二十九日起,所有早上的崇拜將會改為網上直播,網址是:
www.youtube.com/cabcthornleigh。崇拜的時間如下:
英文崇拜 – 早上九點
國語崇拜 – 早上九點
廣東話崇拜 -早上十一時
我們將會暫時停止下午的崇拜 (廣東話下午三點和英文堂下午五點)
我們的小組,團契,成人主日學和兒童主日學將透過互聯網進行。有關資料將會用電郵跟大家聯絡。
如果你是訪客,想與我們聯絡,或你需要協助和查詢,請你使用我們網頁下方的聯絡表格跟我們聯絡。
由於疫情持續每天改變,請瀏覽我們的網頁或面書網頁以便得知我們最新的資料。如想要閲讀我們的通訊,請瀏覽以下網頁:
最後,讓我們以神的說話互相勉勵:
"然而,靠着愛我們的 主 ,在這一切的事上已經得勝有餘了。 因為我深信無論是死,是生,是天使,是掌權的,是有能的,是現在的事,是將來的事, 是高處的,是低處的,是別的受造之物,都不能叫我們與神的愛隔絕;這愛是在我們的主基督耶穌裏的。"
羅馬書 8:37-39