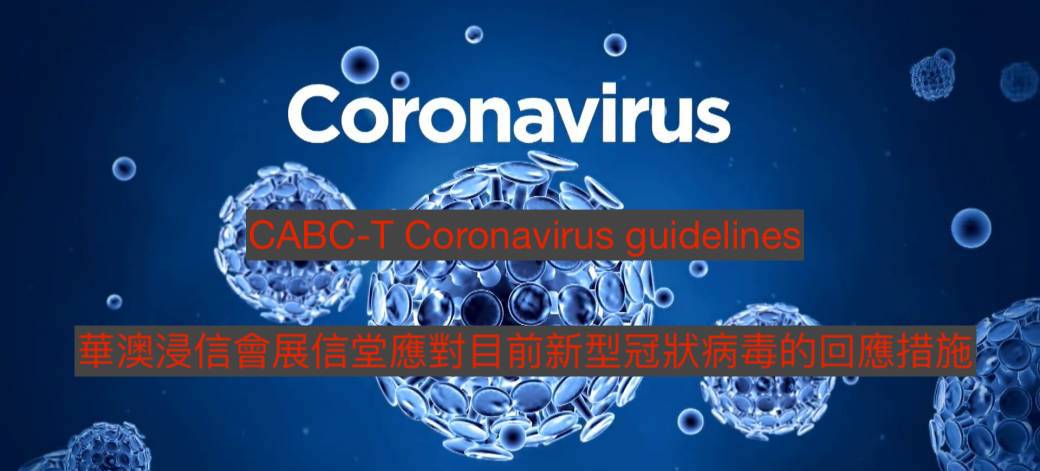 Updated: 31/1/2020
華澳浸信會展信堂應對目前新型冠狀病毒的回應措施:
鼓勵個人或家庭,若剛從中國回來,自我隔離十四天。
若有些微的感冒症狀,如咳嗽或流鼻涕等,到教會時請戴上自備口罩。若有發燒現象,(攝氏37.5度或以上),請留在家中休息。
請暫停握手問安,避免可能的病毒感染。
這段期間教會將使用一次過使用的紙/膠杯,弟兄姊妹也可攜帶自己的杯子。
教會將提供酒精消毒液給會眾使用。
午餐仍照常供應,但工作人員會配戴手套和口罩,以避免感染病毒。
二月份的聖餐,餅將會採獨立包裝方式。
以上的措施同樣適用主日崇拜以外的其他教會活動。教會將視情況決定一些活動是否繼續舉行。
教會將觀察病毒發展情況,做進一步措施,並通知大家。
請為已被感染的人民康復禱告,並求主保守我們各人能平安度過。
Dear fellow brothers and sisters at Chinese and Australian Baptist Church Thornleigh,
We pray that this communication finds you well. We want to inform you about the Church's response regarding the recent events surrounding the Coronavirus (2019nCoV).
As you are no doubt aware, the virus has travelled to Sydney via those who have recently returned from China. There is much information online about this; some are valid, but much is speculative. It is best to use reputable sources (such as the World Health Organisation https://www.who.int/news-room/q-a-detail/q-a-coronaviruses) for seeking accurate information.
The immediate response involves the containment of those infected, as well as prevention of further infections. Scientists all over the world are working on the treatment and vaccine, which will take some time.
Whilst everyone is susceptible, we can effectively minimise infection if we follow a few simple principles:
If you are healthy and do not present any symptoms of sickness:
Maintain hygiene by regular washing of hands
Avoid unnecessary physical contact with others
Take care in handling of food and sharing of equipment
If you do have any symptoms of illness, such as fever, sore throat, coughs or breathing problems, then further to the above practices:
Consider isolating yourself from others as much as possible
See a doctor for an accurate diagnosis
If you do have a need to go out, please take caution in:

Wearing masks
Avoiding places where there are lots of people
Refrain from close physical contact with others
For an extensive list of things you can do, please refer to https://www.who.int/emergencies/diseases/novel-coronavirus-2019/advice-for-public
Whilst the consequence of being infected is serious, and the numbers of those infected (and potentially infected) seem staggering, the likelihood of contracting it in Australia's current climate, along with taking the standard precautions listed above, is low. This is supported by past experiences such as the Severe Acute Respiratory Syndrome (SARS back in 2003).
As a responsible organisation, CABC-T is also implementing appropriate measures to ensure a proportionate response. We have taken into consideration responses from the Government, as well as our sister churches.
The measures we are implementing will be as follows:
Because there is evidence that the virus can be present in people without any outward signs or symptoms, we encourage families and individuals who have recently returned from China to self-isolate for 14 days.
If you have not been in China, but have presented mild cold symptoms such as a runny nose or a cough, we ask that you wear a face mask when attending church activities to keep yourself and others alert of precautionary practices. Please note that the church will only have limited supply of masks due to general lack of availability.
If you are feeling unwell or have a high temperature (>37.4 degrees Celsius), please refrain from attending church activities.
Please avoid unnecessary physical contact, such as shaking of hands or embracing.
Hand sanitisers will be supplied for use throughout the church (Main hall, side hall, the kitchen and the Manse).
Disposable cups will be supplied in church as an alternative to re-useable cups.
Lunches will still be provided on Sundays with standard precautions in place, such as use of gloves and face masks.
Wafer breads wrapped in plastic will be distributed for those who partake Communion this Sunday.
For any organised activities outside of the Sunday worship services, please apply the above principles, consider the risk appetite of those attending and exercise wisdom in determining whether the activity should go ahead or not.
Above all, let us pray and entrust our concerns to the Lord's will and providence, interceding and caring for those who are affected by this circumstance. May God's grace and love be shown through our attitudes towards our loved ones, friends and the wider community.
We will monitor the progress of this regularly and inform you of any changes to our practices as necessary.